Bento Box
By Aimee on
If you haven't watched the documentary 'Miso Hungry' then I suggest you get on it. The image will link you to where you can watch the trailer and the film.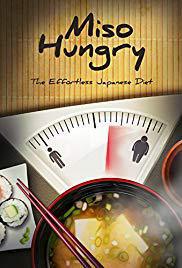 Anyway as you came here for Bento Boxes, let me explain the link between the documentary and the Bento's. In Miso Hungry, an overweight Australian goes to Japan to learn their culture around food to lose weight. He learns how to create a bento box from a Japanese woman and comes back to Australia and makes them for his lunch everyday. I thought this was great and was inspired by the show to start making our own.
Most of the time lunches are leftovers but some days we don't have any so I'm often buying lunch and that gets expensive. It's also often not the healthiest of foods. But for the last few weeks we have been giving the Bento box a good old try and I think it has been a great success.
So after a trip to Daiso to grab a few bento boxes and supplies at the local supermarket I got stuck into the kitchen after dinner.
From what I've seen and researched a Bento is half carb (rice, noodles etc), 1⁄4 Protein (tofu, meats, eggs), and either 1⁄4 veg or 1⁄8 veg and 1⁄8 fruit. You can also get super fancy and creative with the Bento's but as you'll see below mine are pretty basic, but balanced and delicious.
Bento 1
This was my first attempt and was pretty happy. The dishes included are:
Tamagoyaki or rolled omellette
Cocktail frankfurt octopusses
Baked sweet potato
Gomae or Spinach and sesame seed dressing salad
Brown rice with black sesame seeds
sliced carrots
Wakame or seaweed sesame salad (in Sam's only)
This sounds like a lot but the rice was leftover from dinner, the seaweed salad we buy from the store pre made and everything else only takes 5 or 10 minutes.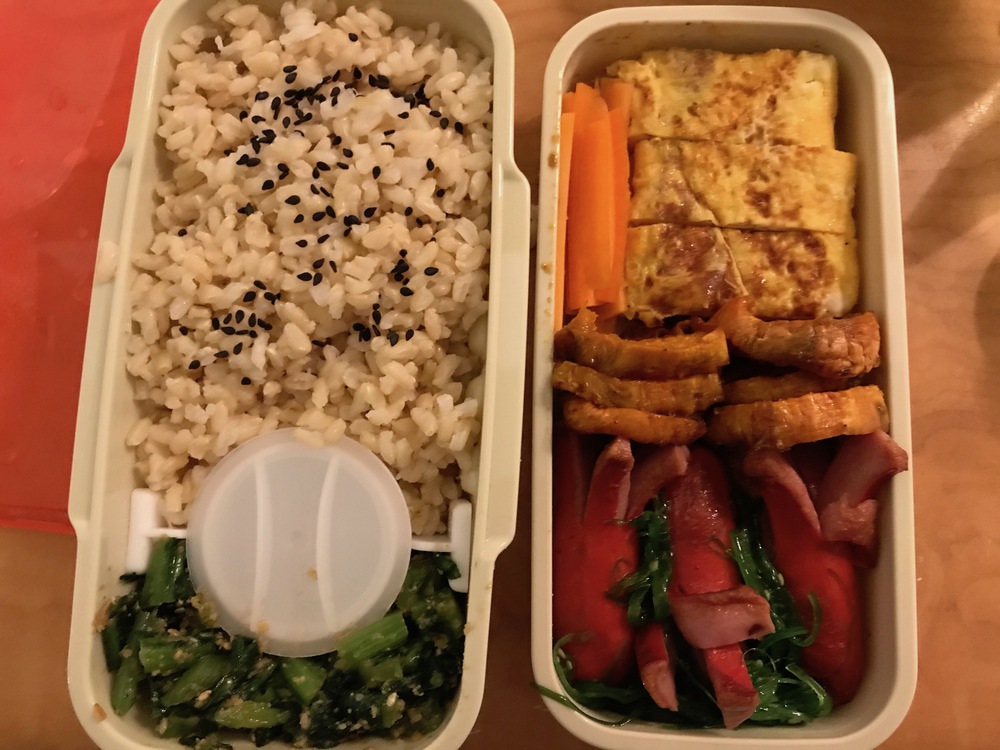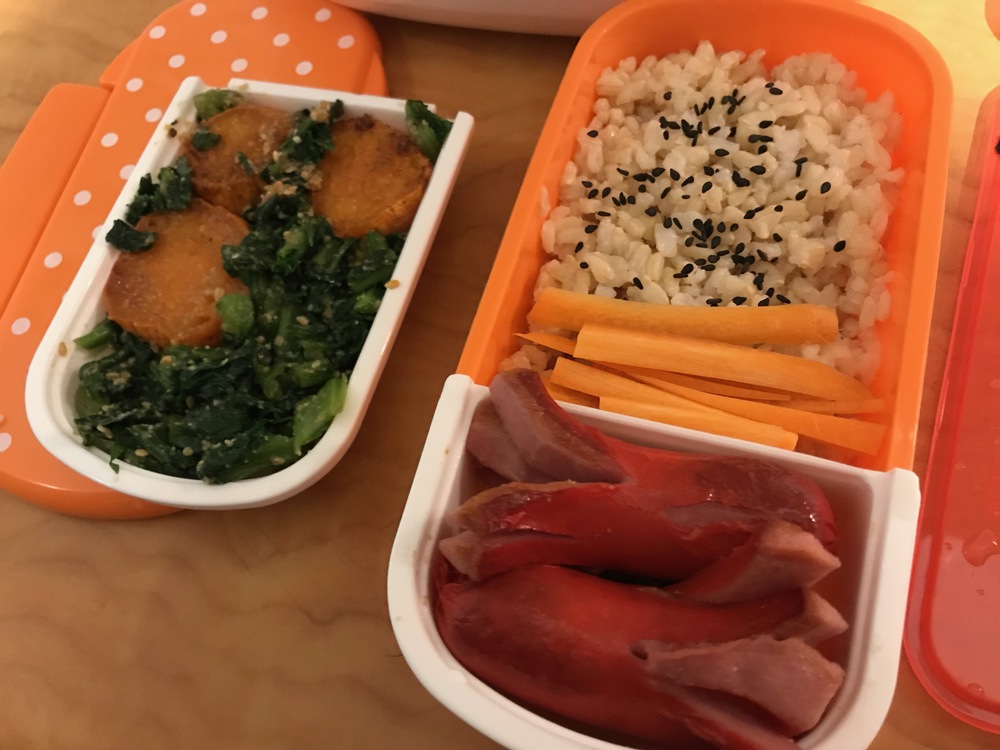 Bento 2
Many of the same ingredients were used from bento 1 - 2. This one wasn't planned too well and used many ingredients we just have at home.
Tamogayaki with Nori
Baked sweet potato
White rice with furikake (seasoning that has nori, sesame seeds and bonito flakes)
Sliced carrots
Wakame salad
Fried tofu
The only thing I really prepared for this one was the egg roll and the tofu. Which again didn't take long.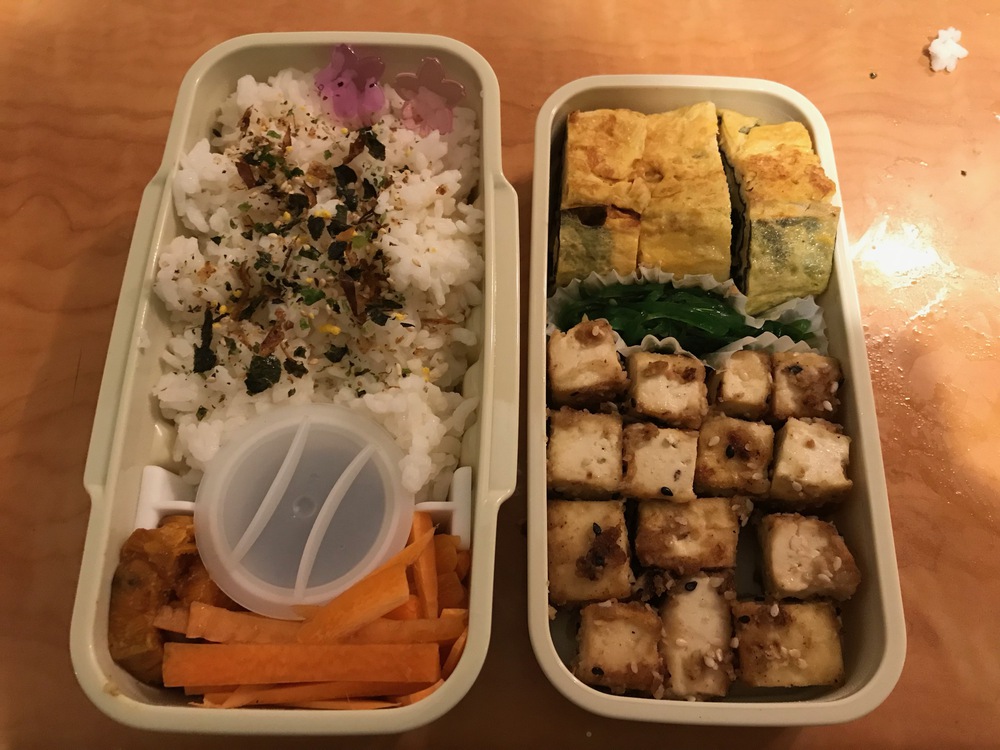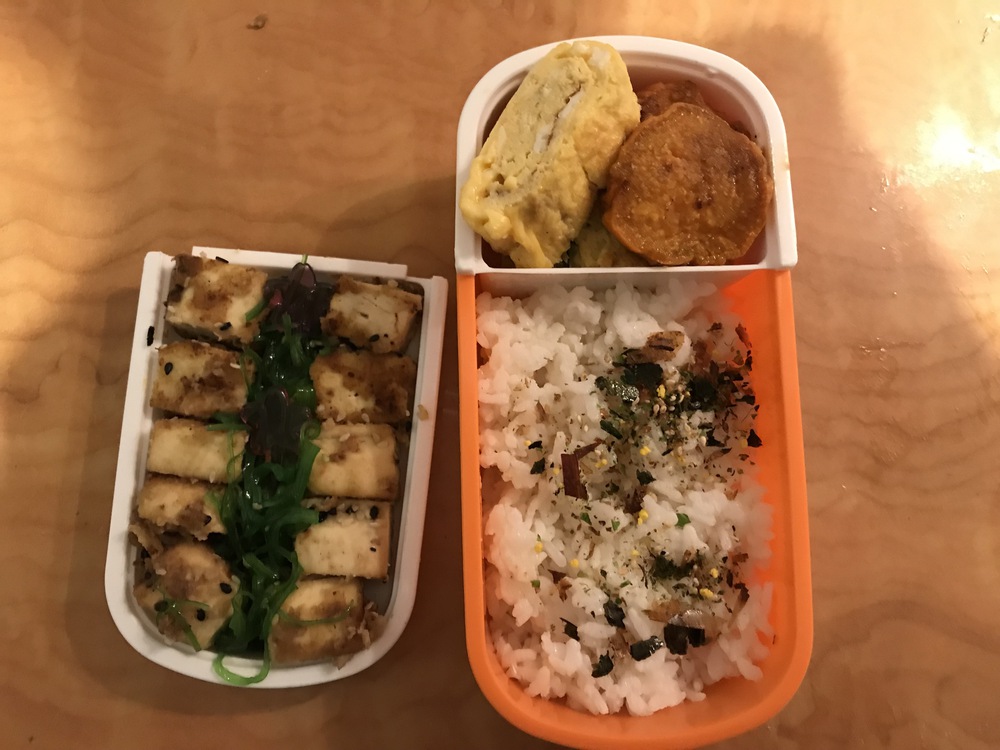 Bento 3
The next 3 Bento's were a bit more planned to add some variety but also ease of putting together.
Tofu Dumplings (leftovers)
Ramen Egg (boiled egg marinated in Mirin and Soy sauce)
Gomae or Spinach and sessame seed dressing salad
Grated Carrot
White rice with black sesame seeds
Cherry Tomatoes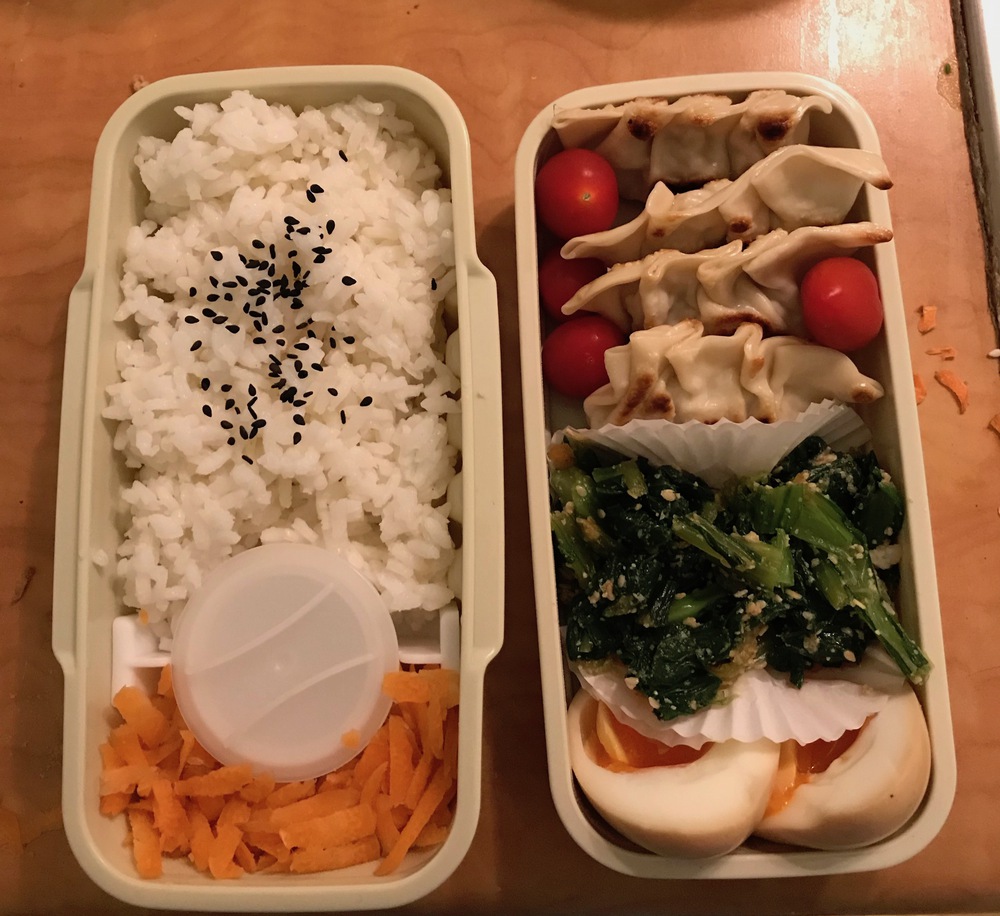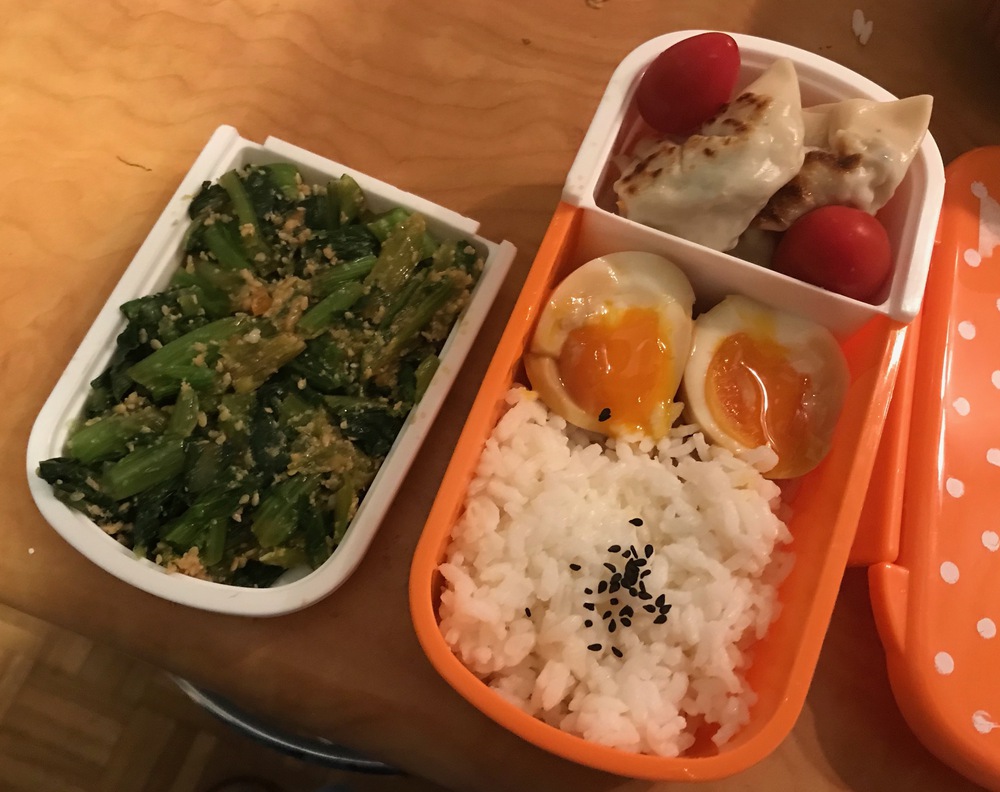 Bento 4
We ran out of Gomae with the 3rd (first of second week) Bento and I was hoping it would last 2 bentos. If it wasn't so yummy and if spinach didn't shrink so much when cooked it would have made it.
Brown rice with Black Sesame seeds
Fried tofu in peanut butter, Harissa, soy sauce, rice wine vinegar and garlic powder.
Fried beans and cashews (leftovers)
Steamed Broccoli (leftovers)
Cherry Tomatoes
Ramen Egg (boiled egg marinated in Mirin and Soy sauce)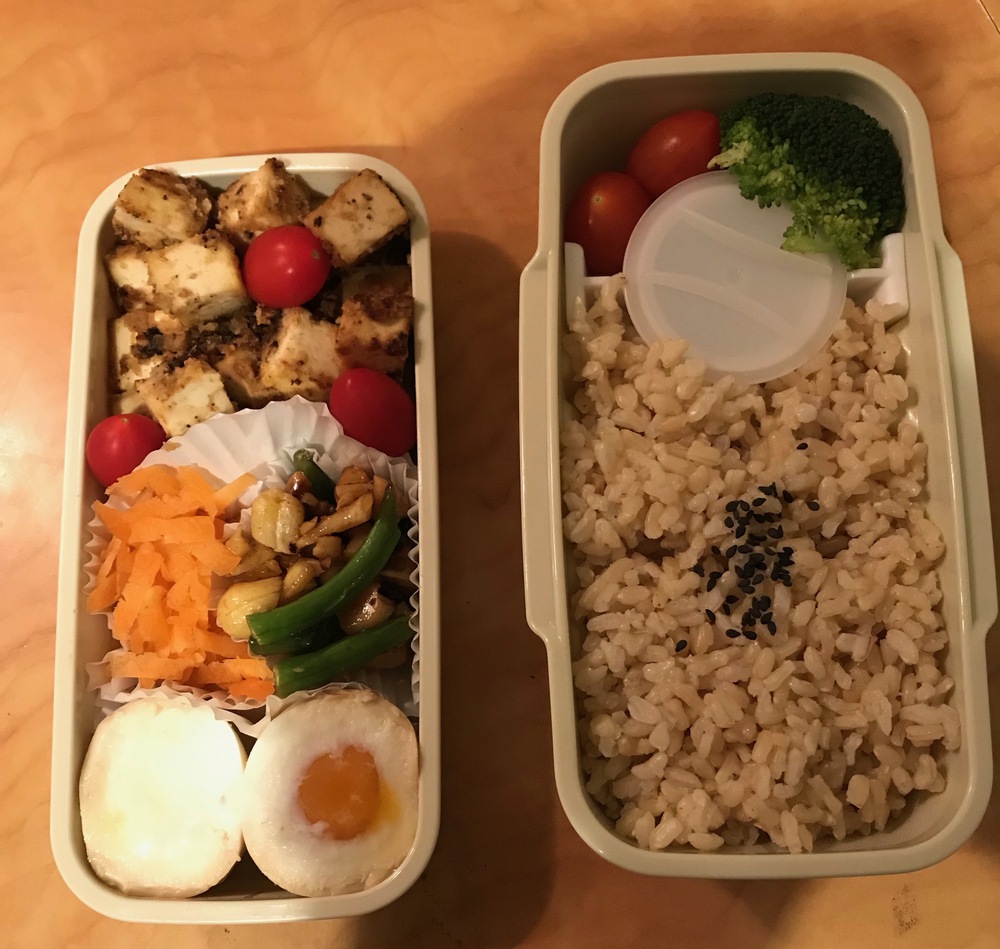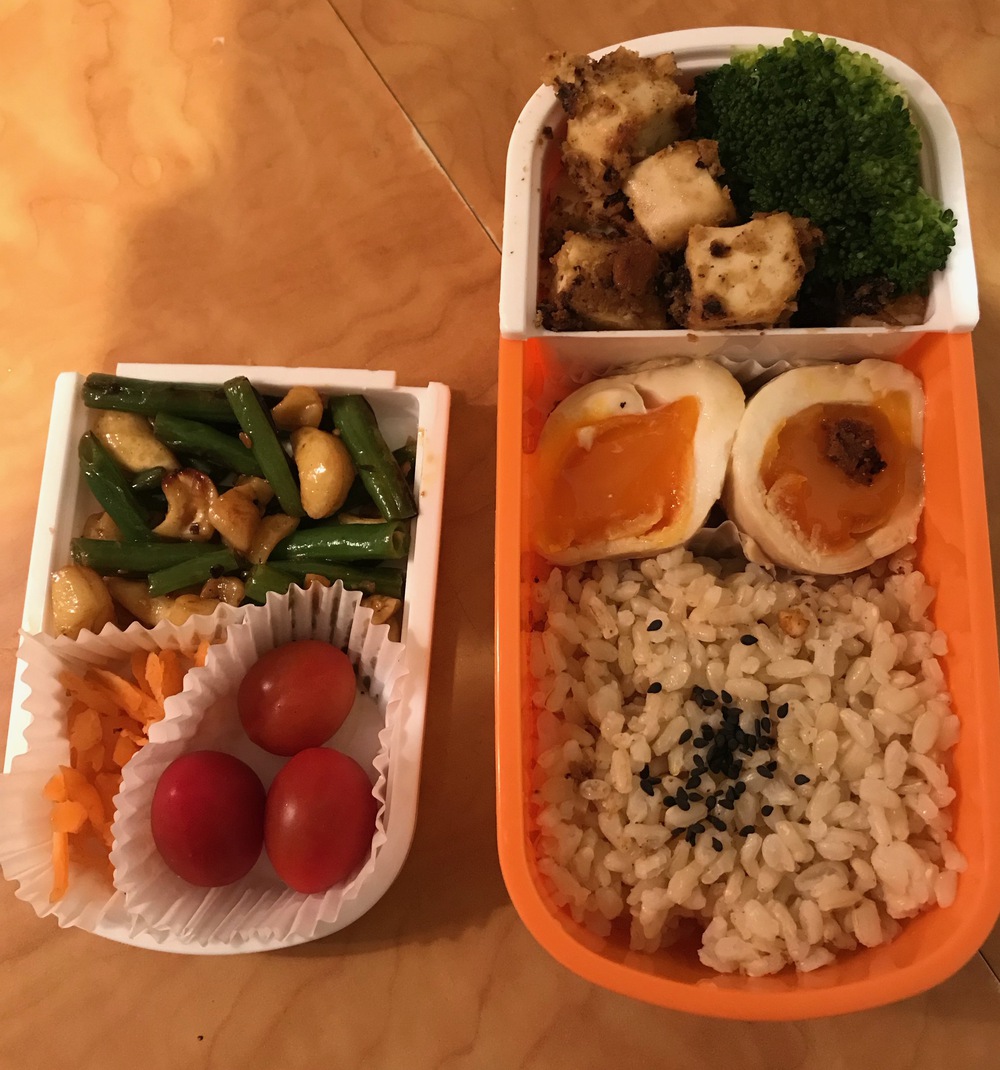 Bento 5
I had planned to do some Onigiri but as we had some leftover fried rice from the previous morning I used that in this last bento instead. As you can see there was not specific egg portion to this bento like the others as it was accumulated into the rice.
Fried rice (eggs, brown rice, peas)
Gomae (Sam didn't use the spinach for the meal it was bought for so I stole it for the Bentos!!)
Steamed pumpkin (with salt/pepper and a drizzle of honey)
Cherry Tomatoes
Wakame salad
Fried tofu (same as bento 4)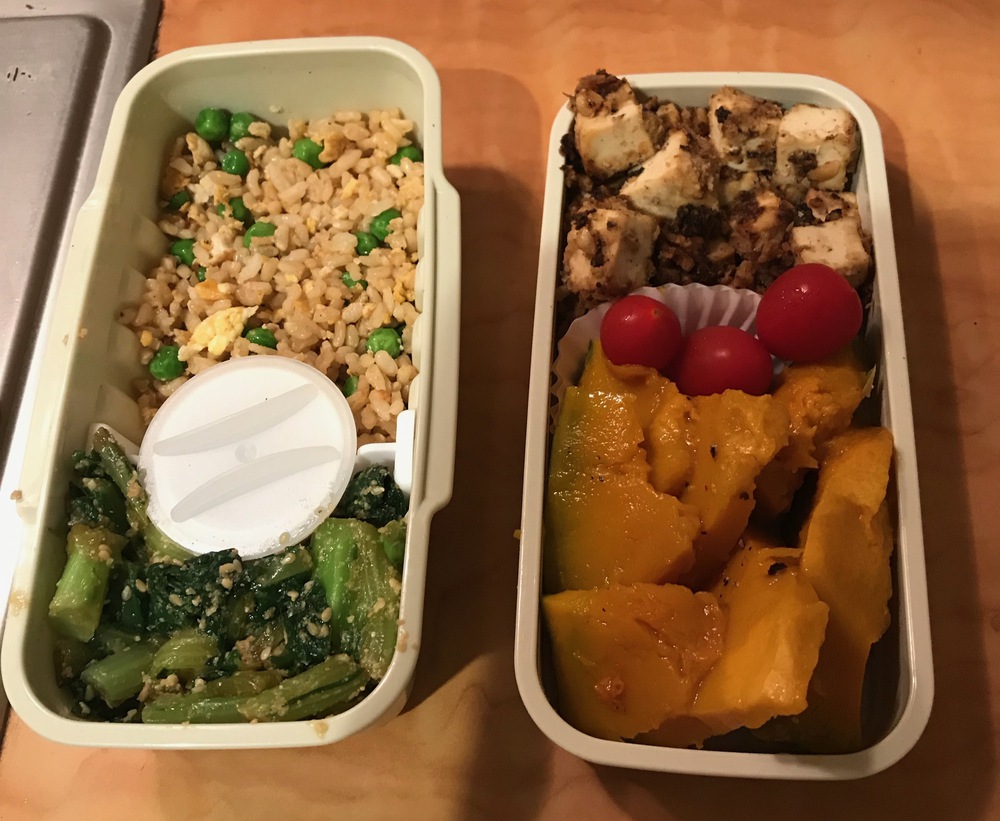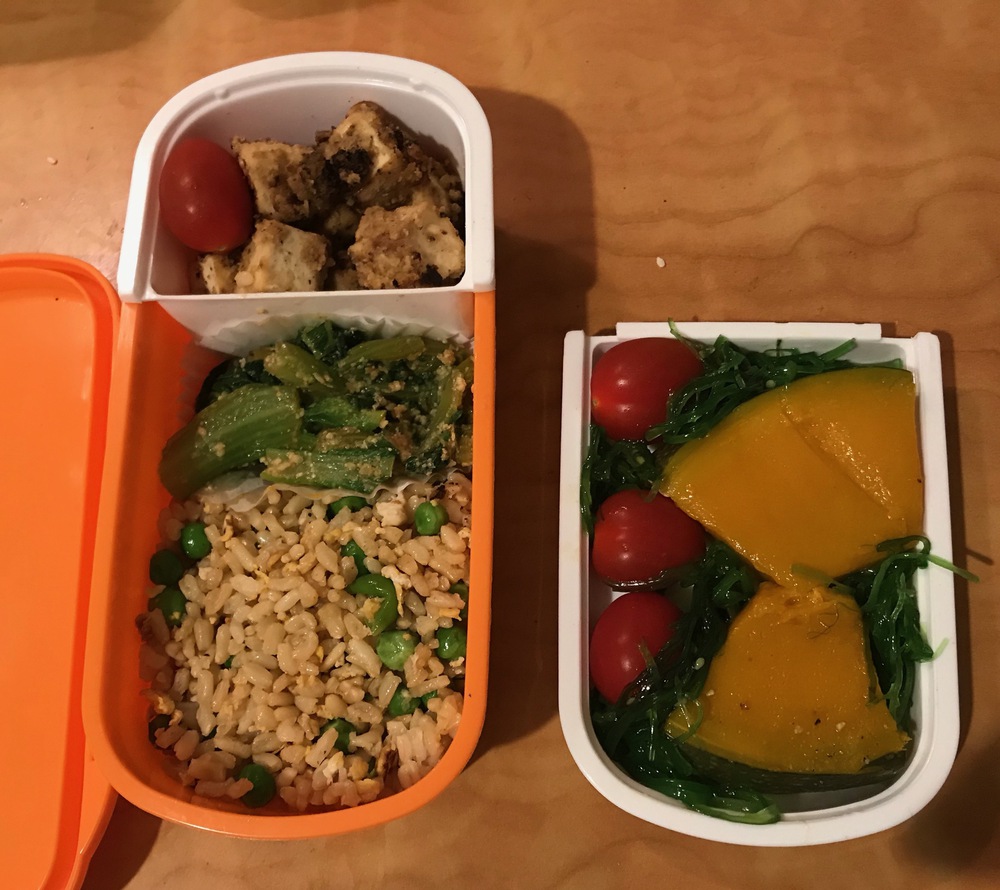 So as you can see there's some great variety you can put into the bento boxes or you can keep them pretty much the same each day. We are planning on only doing 3 per week as there will be other leftovers and Sam and I both don't work full time so sometimes we are home.
Some ingredients are worth preparing for the week ahead, some leftovers (which i've indicated in the lists) work well too, and then there's some things that are simple that will probably be in your house anyway. Like carrots. My plan is to have 1 different thing per day to change it up a little bit and to make sure it isn't overly taxing to make.