Simple Dinosaur Cake
By Aimee on
My nephew asked for a dinosaur cake for his birthday this year. I spent some time trawling through pinterest to find something achievable but also something new that looked good.
I decided to try a slab cake. I had been practicing cooking circular cakes for layering and had started to get sick of it. Hence the slab cake. For the cake I used this recipe here.
As you can see the cake batter was thoroughly enjoyed.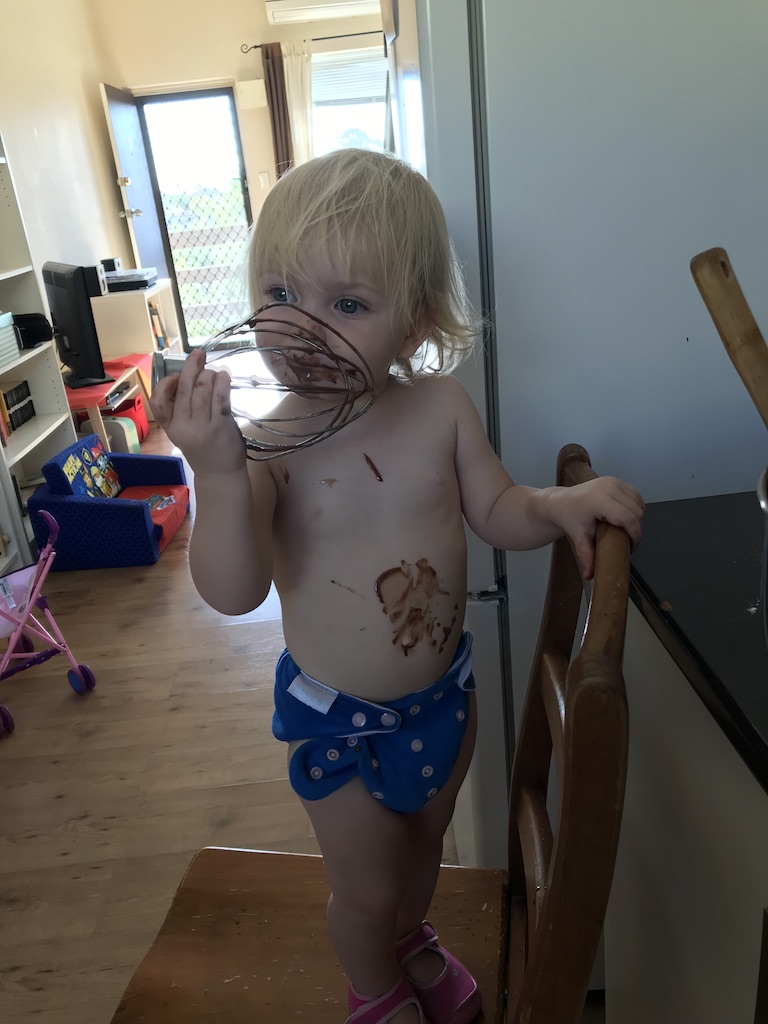 As it was a slab cake I changed the cooking time down from the recommended 50-60 minutes to 35. We have a fan forced oven however so if you were to use this recipe you know the cake is done when a toothpick goes in and comes out mostly clean. I say mostly clean because if it's completely clean then your cake will likely be a little dry.
After leaving it in the pan to cool down a little bit I then flipped it out and cooled it further on a rack. I then used a serrated knife to flatten it out and cut off the domed area.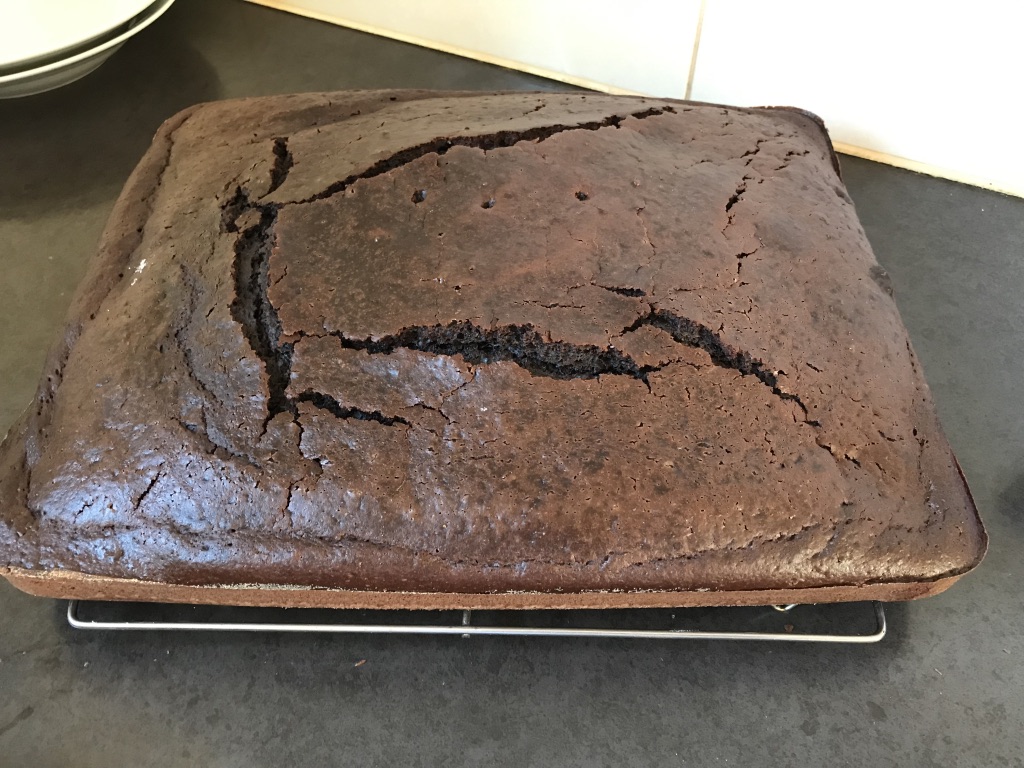 I refrigerated it over night before spending some time decorating it.
Firstly I crated a 1:1 ratio of Ganache using dark chocolate melts and thickened cream. I weighed my ingredients to make sure it was precise before heating the cream in a microwave till near boiling. I then poured this over the chocolate and let sit for a few minutes before stirring with a whisk and combining both ingredients until smooth and silky.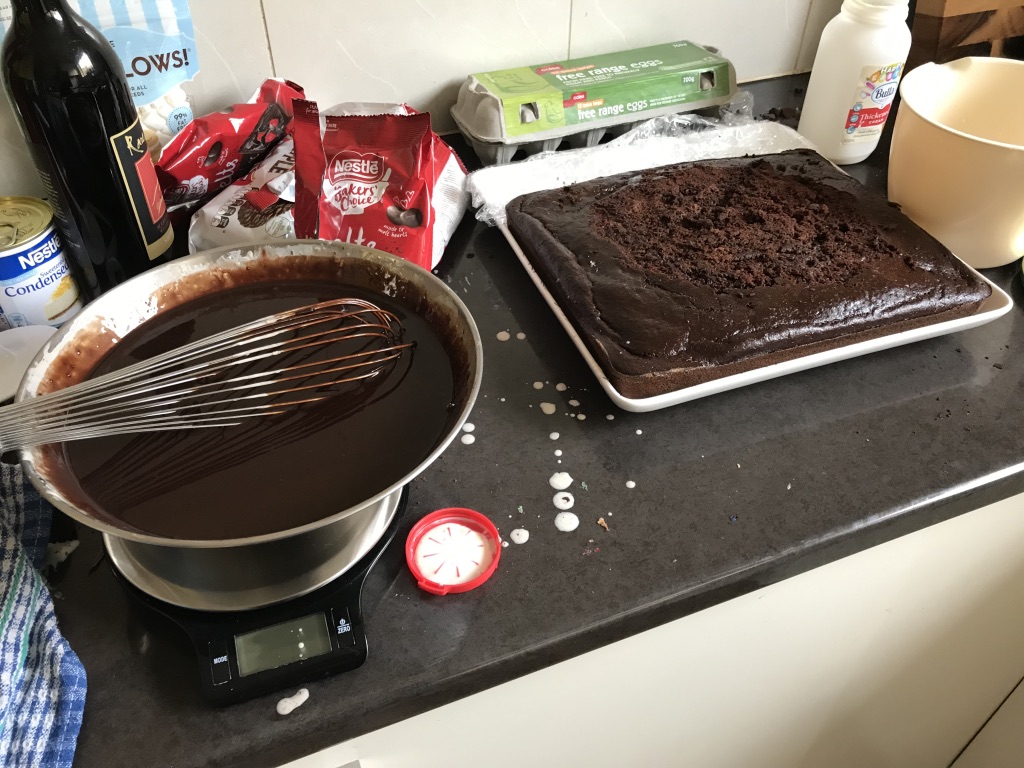 I then let this cool a little (I should have let cool longer but I can be impatient when excited) then poured this over the cake for a glossy finish. The ganache went everywhere but it was tasty and fun.
Once this settled I then created some green buttercream for grass. using 1⁄2 a cup of softened butter, 1 teaspoon of vanilla, 2 cups of icing sugar and a little milk and green food colouring until the right consistency. I needed it quite thick for piping. I used the whipping attachment on my mixer to make it quite fluffy.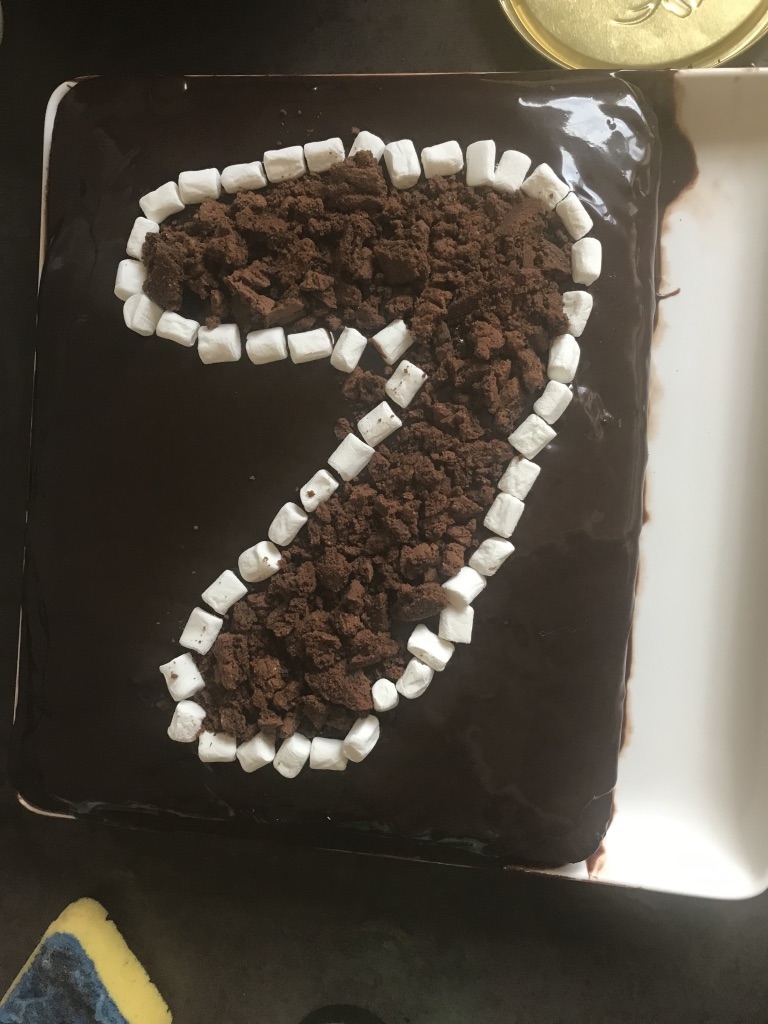 Then it came time to decorate. I used mini marshmallows and crushed chocolate biscuits for the 7 (I crushed them with a rolling pin). The icing for the piping and some washed and dried mini dinosaurs.
There are so many ideas for Dinosaur cakes online. I was going to do some water and some wafer sticks around the edges and maybe add some plastic trees but it didn't quite happen and that's ok. Because it is super tasty and looks good just the way it is.